Reliving King of the Ring 1996 and more →
I was thrilled to be a guest on one of my favorite new wrestling podcasts, "What A Maneuver," in which the hosts go week-by-week through 1996, watching every episode of Raw and Nitro and all the pay-per-view shows. Since I was in attendance for King of the Ring on June 23, 1996, co-host Joe Drilling invited me onto the show. As you'll hear early on, I did not have cable at home...
A new project →
I have mentioned this on Twitter a few times, but not here formally, so consider this my announcement that I have started a new wrestling writing project, Irresistible Force vs. Immovable Object, a two-headed blog type thing where a college friend and I hash out wrestling debates (current and steeped in nostalgia) in our own easily imitable way. The first post is a pretty good microcosm of what I...
Whither John Cena?
John Cena observers — love him, hate him or love to hate him — have to be asking one thing at this precise moment: now what? After WrestleMania, when we thought we might get a complex story about Cena searching his soul in the wake of his loss to The Rock, we instead got his brief feud with Brock Lesnar. And after Extreme Rules, when we thought we might get a complex story about Cena being...
The fear of the three-hour 'Raw'
Two facts out of the gate, both of which you probably know but bear stating for the purposes of this piece. 1.     Tonight's episode of "Monday Night Raw" will be three hours (and change) instead of two. 2.     As of July 23, "Raw" will move to three hours on a permanent basis. As I write this, I am already prepared for tonight's Twitter news feed onslaught of people complaining about how bad the...
The future of WrestleMania?
Much has been made about the possibility of WWE following the Rock-Cena blueprint and establishing the WrestleMania XXIX main event up to a year in advance — you know, sometime between now and the end of Monday's Raw. With Twitter being what it is, plus the excitement of former WWE stars arriving in Miami to be a part of WrestleMania weekend, there's rampant speculation about which stars could be...
Atomic Elbow Issue 1 →
Please take some time, if you haven't already, to look over Issue One of The Atomic Elbow, a professional wrestling fanzine, since it includes a lengthy piece, by me, in defense of WrestleMania IX. One thing I did not notice until after I submitted the article — that show is the first WrestleMania to include match that could be considered a gimmick match of any kind. Anyhow, please follow...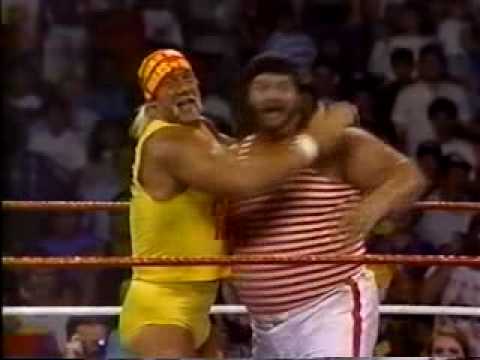 Fair to Flair: Royal Rumble 1991: Highly American →
I was thrilled to make my first appearance on the Wrestlespective podcast. The topic was in my wheelhouse: Early 1990s WWF, my favorite era, and a Royal Rumble, my favorite match. No big shock we talked for almost two hours. Enjoy — and let me know what you think! fairtoflair: The 1991 Royal Rumble match is discussed by Jason Mann and Scott T. Holland of Star of Savage in this marathon show....
Is John Cena a victim of his own success?
John Cena needs to go away — for his own good. I made this argument in a Fair to Flair guest piece way back at the end of November, and while we clearly missed the boat for a pre-WrestleMania absence, I think the sooner Cena takes an extended vacation the better. The idea of a wrestling star using absence to make the fans' hearts grow fonder is by no means new. In the old days (pre-Internet)...
Re-thinking the WWE Calendar
One of my favorite thing about amateurs who write about pro wrestling online is how quick we all are to say we don't want to get into fantasy booking, only to be followed with a paragraph on this one great idea we have for how a certain story should play out or what ought to be done with a given character. (My current contribution is hoping The Miz, currently on a noticeable slide, will bottom...
Well, I Still Think The Miz Is Awesome →
TH: Regardless of what anyone says, I still think Miz has it as a performer for me. He's still awesome. Yeah, missing Truth on that dive was bad. And yeah, I honestly know that Miz is not everyone's cup of tea. Regardless, I still look forward to his presence on the show, whether he's got something to do or not. I definitely agree with TH on this one. As an avid fan of...
The Wrestling Blog: The Rock/Cena Dynamic →
grapplekingdom: TH: [Cena is] the guy who stayed, and that contrast against the movie star is more important than worrying who the one who gets to nominally be called "the babyface" is. If that character gets booed out of the building? Then so be it. At least people are reacting to him. I think WWE sees this, and it's not a mistake that Cena's tone has gotten more and more homespun, authentic,...
Personal and Artistic Dividing Lines →
internationalobject: The biggest example is, as we all should figure, Chris Benoit, a man who exists with two absolute parallel truths: he was perhaps one of the greatest wrestling performers in history, and he murdered his wife and son. Your stance on how much you compartmentalize those two truths is an interesting thing to discuss, because it forces you to take a stand on personal...
Completing the WrestleMania XXVIII card
Alberto Del Rio, Big Show, Camacho, Christian, Cody Rhodes, David Otunga, Dolph Ziggler, Epico, Great Khali, Hunico, Jack Swagger, Jey Uso, Jimmy Uso, Jinder Mahal, Justin Gabriel, Kane, Kofi Kingston, Mark Henry, The Miz, Primo, R-Truth, Randy Orton, Santino Marella, Ted DiBiase. That's a list of the (ostensibly) healthy male WWE talent regularly appearing on Raw and Smackdown who currently...
Time to end the brand split →
Kick-Out!! Wrestling (Razor): I always thought merging the belts and unifying the rosters would lead to too many guys losing their gig and their card placement, but after watching the last two WWE PPVs, I just don't see the need for it anymore. The thing that bugs me most about the brand split is the incongruity of us being told, on one hand, the WWE Title and World Heavyweight Title...
[SoS]: Elimination Chamber 2012 review →
internationalobject: sugarazor: Match order is important. Those four words sum up Elimination Chamber 2012 better than any full review. I can't disagree — the Ambulance Match was not the strongest way to end the show, unless they used the last 15 minutes for a Rock cameo to point to WrestleMania. But the Cena/Kane feud is so different from anything else on the show (it seems to come...
The OTHER problem with the Elimination Chamber
I wrote earlier this week about my desire to see the Elimination Chamber show moved somewhere else on the WWE calendar. I am quite all right with a February PPV, I just wish it did not have such high-concept matches that (to me) interrupt the flow of world title build between the Royal Rumble and WrestleMania. But I came across a different problem this week. I live about an hour south of...
The problem with the Elimination Chamber
Simply put, the show's place between the Royal Rumble and WrestleMania is just illogical. As KSP wrote on the International Object blog, "because a date has been set for this kind of match, any story is going to feel shoehorned into it." He was referring also to Money in the Bank and Hell in a Cell, and that has some validity, but he is most correct when referring to the Chamber. Think about it....
Rethinking the WWE PPV schedule
I always wonder how much energy to expend writing about how I think the WWE "should do" things. I'm not inclined to worry about week-to-week stuff or even the way a pay-per-view plays out, because I'm willing to apply a broader view and wait for a story to play out to decide if I like it or not. But any time the talk turns to the company's schedule, I can't avoid having a strong...
Cena: Be careful what you wish for
After re-reading the three-man discussion on John Cena with myself, Jason Mann and Joe Drilling posted Tuesday on Fair to Flair, I find myself still thinking about Cena, how he's booked, how he's received and what the future holds. Conventional wisdom is there are two camps on John Cena: "Let's Go Cena" and "Cena Sucks." Yet obviously even his character is not that black and white. We're all...
Fair to Flair: John Cena: Good guy, bad guy, or... →
Was glad to be able to join this discussion. I may have some more thoughts on the topic later. fairtoflair: Is John Cena's split reaction a good thing, a bad thing or just a thing? This was recently discussed over email by Fair to Flair co-editor Jason Mann of Wrestlespective, Joe Drilling of On the Stick and the Action Cast, and Scott T. Holland of Star of Savage. Jason:…
10 tags
Royal Rumble reflections
In no particular order: Is there a reason Randy Orton was brought back in a heavily promoted spot on "Smackdown" as opposed to being a surprise Rumble entrant in his hometown? Maybe it would have been hard to keep his return a secret, maybe they felt it would have damaged him to get the big surprise pop and then not win, maybe (though I doubt it) they thought his advertised presence would help the...
An introduction of sorts
I realize this will not be well read, but nonetheless it seems fair to establish some ground rules, at least to give myself a sense of direction. More specifically, it seems proper to point out it is possible to offer commentary without being critical — at least in the way critical has come be to defined. Criticism is really just a synonym for analysis and is not inherently negative. A fair...